Infertility can strike anyone. It does not discriminate; however it can affect everyone differently.
Historically, women of color have been portrayed as hyper-fertile, leading to the misperception that they are immune to infertility. Therefore when the unthinkable happens, they are devastated!
The rate of infertility among African American women is higher than in other ethnic groups. Although infertility is declining among other groups, the rate of infertility among Black women is actually rising. Even more disturbing, Black women are two to three times more likely to have uterine problems such as fibroids which can affect fertility.
Fibroids and Polycystic Ovary Syndrome
Fibroids affect more than 40% of women, occurring 3 times more in black women. Fibroids occur more frequently and at younger ages in black women than in women of any other race. For many of these women, younger onset and larger fibroids can lead to very severe symptoms and infertility layer in life.
Similarly, Polycystic ovarian syndrome (PCOS) has been found to affect 4-8% of women of reproductive age; however, in Mexican-Americans the prevalence is 12.8%. PCOS is a hormonal imbalance that makes it very difficult to conceive.
Privacy is valued in black communities leading many black women to suffer in silence with their infertility. Many times, the silence prevents them from getting the help they need. Women of color also tend to find spiritual solace within churches and worship groups. Yet when it comes to infertility, sometimes these avenues are not helpful. This simply serves to exasperate their feelings of isolation.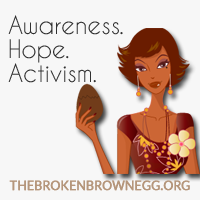 The Broken Brown Egg Inc. (NFP) is an awareness and service organization founded in the summer of 2009 by Regina Townsend to increase awareness of African American Infertility and reproductive health. The mission of The Broken Brown Egg Inc. is to encourage African Americans to begin this very important dialogue of reproductive health and fertility by raising awareness, hope, and activism.
The goals and mission of the organization are:
To provide awareness and advocacy for infertility and reproductive health, with a focus on African-American and minority concerns.
To provide financial and emotional support for members of the infertility, adoption, and foster-care communities.
To seek and create opportunities for partnership and work with similar organizations for the better fulfillment of these goals.
The Broken Brown Egg depends on the contributions of its supporters to continue its work. Check out the link to its Infinite Hope Shop.
As always, please email me at northshorefertility@gmail.com with any questions.